The best way to relive your experiences is always through photography. It lets you capture the moment as it is so that you can keep the memories forever. Singapore is a heaven for photographers, with so many beautiful locations available. There are exotic tourist spots, diverse food scenes, beautiful architecture, and rich culture. Therefore, you'll probably want to remember each moment you've spent here. The best way of doing that is by taking lots of pictures.
If you are visiting Singapore and are looking for inspiration, then this article is exactly what you need! Here is a list of the ten best photography spots in Singapore that you will definitely want to visit.
Take a look!
1. ArtScience Museum Singapore
ArtScience Museum has the world's largest compilation of modern Singapore and Southeast Asian art. This place is best for photography in Singapore, especially if you're interested in art, science, and technology. This museum has the most fascinating digital artwork which you won't find anywhere else.
It has various exhibitions with various themes – a Future World with Space, Nature, Town, and Park.
The main source of attraction for tourists is the Space theme Crystal Universe. Because of how beautiful it is, it has attracted plenty of photographers. Using thousands of LED lights the creator created a beautiful visual of stars traveling through space. As such, as you stand in the room, you feel as if you actually are surrounded by stars. It is an ideal setup for photo-taking.
2. Sentosa Island
If you're in Singapore, you definitely cannot miss out on visiting Sentosa Island. This place is best if you're with your family and looking for exciting activities. Here you can find Universal Studios, S.E.A. Aquarium, sandy beaches, rainforests, and beautiful resorts.
Visitors love to visit Palawan and Siloso beach and take pictures of the breathtaking sunset. Furthermore, as you walk along the beach, you can find quaint food stalls and bars where people can spend quality time with their friends. These stalls are also great as a photography subject. With the bright lights and bustling atmosphere, it is definitely a sight to capture for life.
3. Haji Lane
If you wish to do aesthetic street photography in Singapore then you should definitely visit Haji Lane. It is one of the hottest places to visit in Singapore. With its many boutiques and cafes, a vibrant atmosphere is created. We recommend The Arab quarter as a great photography spot. You can find many colorful painted murals that are popular with just about anyone!
There are restaurants with outdoor sitting arrangements, small gift shops, and many cool places that attract the attention of tourists. If you're into art and fashion then you will definitely love Haji Lane.
4. Sultan Mosque
Sultan Mosque is arguably one of the most beautiful and popular mosques in Singapore. Constructed all the way back in1824, it boasts a rich history and culture. To this day, there are many locals and tourists who come to worship here.
The exterior of this mosque is astonishing with gold domes, colorful tiles, and other specific details. The pedestrian lane surrounded by trees leads to the mosque and offers a breathtaking view.
Many tourists come here to take pictures of the mosque. Not only is it unique, but contrasted with the local street art, it is fantastic for aesthetic photography. If you like to take pictures of historical architecture then you would not want to miss this mosque.
5. Cloud Forest
If you want to do photography in Singapore then the Cloud Forest at Gardens by the Bay is another great place to visit. Within the large glass, dome structure houses a large number of tropical plants from all over the world.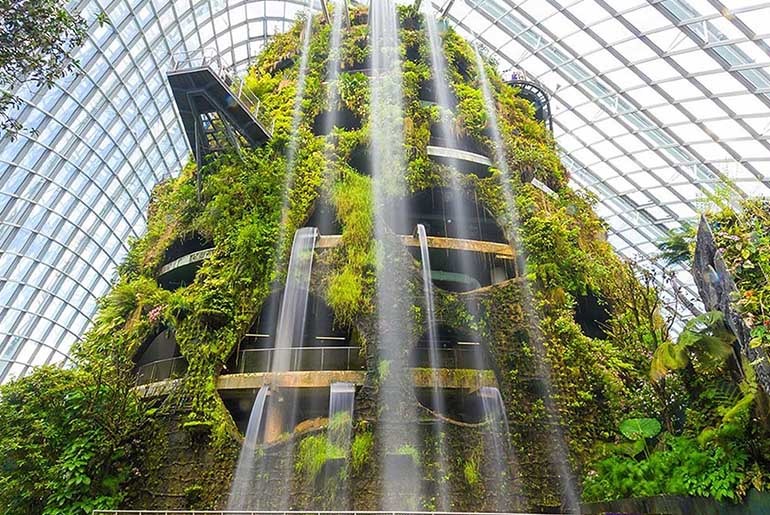 The Cloud Forest has the world's tallest indoor waterfall that is definitely a stunning backdrop for all your pictures. Besides that, the nearby mountain structures are covered with lush green tropical plants and a beautiful variety of flowers. These spots are equally breath-taking. If you're in Singapore, this place is a definite must-visit.
6. Chinatown
Chinatown Singapore is especially popular with food lovers and lifestyle bloggers. It is a famous place for street food, bars, indie boutiques, crafts, antiques, and souvenirs. Full of traditional Chinese culture and architecture, Chinatown has a vibrant look. The moment you step into Chinatown, you would feel as if you have been transported out of urban Singapore.
With all it's pre-war architecture, Chinatown presents a different aesthetic than the modern Singapore skyline.
7. Supertree Grove
Supertree Grove at Gardens by the Bay is a very unique place in Singapore. There are 12 Supertrees in the garden, with the tallest at 16 stories high. Placing them all together gives off the feel of a dystopian world.
In the day, these trees have a futuristic feel to them and look amazing against the bright blue sky. At night, these trees light up and illuminate the whole garden with vibrant, dancing lights. As a result of its versatility, many photographers love having photoshoots at Supertree Grove.
Supertree Grove has always been a favorite spot for locals and tourists. It is loved for its beauty and architecture. For budding photographers, this is a great place to practice taking pictures at night.
8. Sri Mariamman Temple
Sri Mariamman Temple is one of the most popular temples in Singapore. Located in the Chinatown district, it has a unique and elaborated structure that cannot be missed. Over the years, it has accumulated much historical significance for the community and is thus considered a national monument. This one-of-a-kind temple attracts photographers because of how majestic it looks.
9. Little India
Little India is another iconic area of Singapore. This place is colorful, alive, and the streets are always full of life. If you are someone who loves to experience other cultures then this place is right for you! Immerse yourself in the festive atmosphere with various celebratory decorations.
Here you can take pictures of the vibrant streets, small restaurants, and various shophouses. You can also enjoy the variety of local delicacies this place has to offer.
10. Helix Bridge
The Helix Bridge is an architectural marvel. Because of how bright and exquisite it looks, it has very quickly become a popular location to take photos at. As a pedestrian bridge, you will see plenty of people taking a stroll and enjoying the view.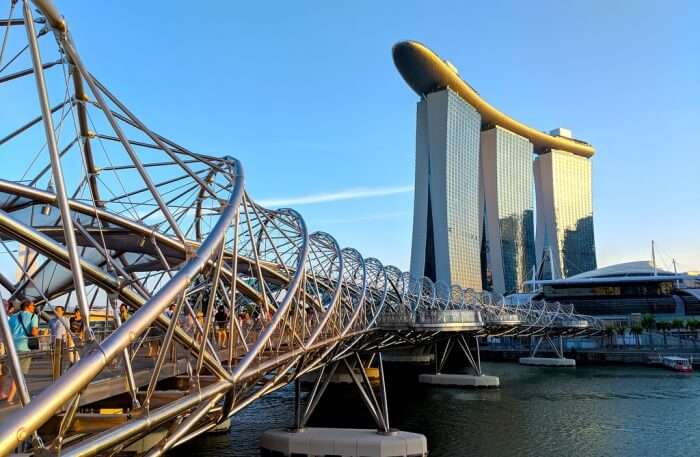 The spiral ring across the bridge provides shade during the day and some people enjoy experimenting with shadow photography. Meanwhile, hundreds of LED lights along the spirals illuminate the bridge at night. People can take pictures on the bridge or from a distance. This bridge is one of the most aesthetic photography spots in Singapore.
---
Need more inspiration? Looking to expand your knowledge on photography?
Check out Owari Express Photography for more articles on photography!