Having a Wedding Photography Package is crucial to many couples in Singapore. Since weddings are a special moment that couples want to remember for the rest of their lives, many couples want to immortalize their special day. In Singapore, pre-wedding and actual wedding days are the most important moments to capture. There are many photographers available in the market. The challenge, however, is to identify the right package at the right budget.
To help you narrow down the packages available in the market, we have compiled a list of the top 10 wedding photography packages. We have been sure to select the services that offer an all-inclusive Wedding Photography Package and especially the pre-wedding and the actual day.
---
1. Vincent Tay Photography
Vincent Tay is an award-winning photographer whose professional journey started in 2017. Due to his vast experiences, his is able to deliver high-quality and professional service for his clients. The services he provides include ROM, Actual Day Photography, Prewedding, and Family Photography. As Vincent Tay is so highly-rated b his clients, you will definitely not be disappointed!
Packages and Rates
In his Actual Day Wedding Photography package, the price you pay differs by how many hours you booked. The price begins at $180 for an hour, and it increases with every additional hour. However, you do get options for additional add-ons (that come with their various prices):
Photobook
Framed Prints
Videography
Meanwhile, for Pre-Wedding Shoots, there are three different packages offered:
Photography Package
$250/hr
Personal Online Gallery
Transport Included
Classic Package
2 hour Photography Session
Personal Online Gallery
Transport Included
1 Gown (off-rack) & 1 Suit (with minor adjustments)
Bouquet
1 Fresh Make-Up and Hairdo
Premium Package
3-hour Photography Session
Personal Online Gallery
Transport Included
1 Gown (off-rack) & 1 Suit (with minor adjustments)
Bouquet
1 Fresh Make-Up and Hairdo
Make-Up Artist to Follow
14″ X 11″ Photobook (40 Pages)
All the edited images will be returned to you via a digital personal online gallery. Hence, even if are reluctant to have a physical print, you can still have access to all the photos taken. You can even share the link with all your guests for them to download! Hence you can guarantee a great experience not just for yourself, but also for your guests!
For more information, check out his FAQ.
2. Kent Wong Photography
Kent Wong is a photographer with plenty of experience. Since he began his professional career in 2011, he has had over 400 different wedding assignments. So you will not have to worry about what you will get when you work with Kent. Unlike those one-stop bridal boutiques, Kent specializes in wedding photography and portraitures.
Packages and Rates
To get a more accurate quote of the rates offered, you can get in touch with Kent.
3. Fotowerke Photography
Fotowerke Photography has more than 30 years of experience in the industry. It is a fun family-run business that began with a father's love for photography. Originally located at Upper Serangoon Road, they have now moved their business online to reduce cost and give their customers a competitive rate.
Despite it being a family-run business, within the Fotowerke team there are individuals who are experts in various respective fields. You have the photographers, the videographers, editors, and designers. All of them come together with a common goal – to give you the best images possible.
Packages and Rates
Photography services from SGD $1,200.00
Videography services from SGD $1,200.00
Premium Packages from SGD $2,888.00
However, if are looking for some customization, do email Fotowerke!
4. Lyrical Moments
Lyrical Moments is founded by Stephen Loh, one of Singapore's most awarded photographers. He specializes in wedding and portrait photography. Moreover, in the Years 2009 and 2010, he was named Overseas Wedding Photographer of the Year by the Master Photographer Association in the UK. Because of his unique style and vision, Stephen has managed to gain an impressive list of international clientele. Hence, he gained the opportunity to take his photography worldwide.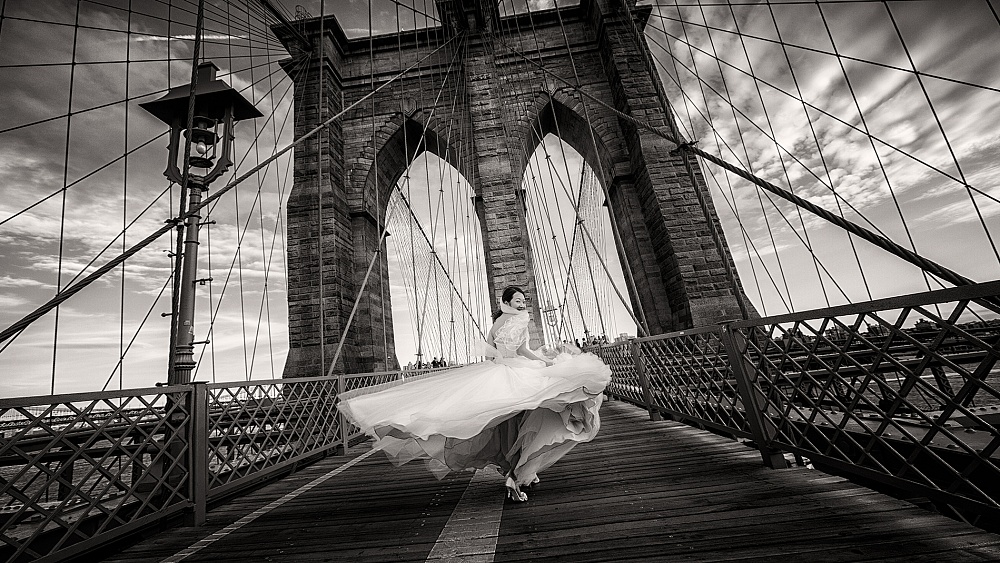 So check out his gallery to take a look at all his beautiful images!
5. A Merry Moment
A Merry Moment was started by 2 business partners – Leon and Petrina.
Petrina is the principle photographer with years of photography experience under her belt. A fun-loving person, she considers it a privilege to photograph the biggest moment of someone's life. Meanwhile, Leon is the resident wedding videographer. He believes that each wedding is different and thus it is important to preserve the memories. Hence he focuses on memorializing your memories with a timeless aesthetic. When these 2 professionals come together, they create beautiful works of art to celebrate such a special day for couples.
On the other hand, Qi Hui is the second photographer at A Merry Moment. With a background in family and maternity photography, she is always on the lookout for unscripted moments. These are the moments easily missed within the hectic rush of weddings. Therefore you can put your mind at ease working with her because you know that you can get images of the best moments of the day.
6. Colossal Weddings
Colossal Weddings began in 2016 to spread joy and happiness with their photography. When they began, they were a team of 4. However, over the years, they have grown into a family of 35! This is all thanks to their nurturing environment. Since they made a commitment to training and developing young talents, there is a strong sense of mentorship amongst the team.
At Colossal Weddings, they do everything they can to avoid creating a cookie cutter experience. They want to focus on creating an experience that is unique to each couple.
Packages and Rates
Option
1 to 3 Hours
4 to 8 Hours
9 to 12 Hours
13 to 16 Hours
Best For
Intimate solemnization & Short Ceremonies
One Day Weddings
Full Day Weddings, or split into 2 days
An insane 2 – 3 days wedding
Items included
– min. 150 images (digital)
– 2 photographers
– post-production & online gallery
– high-resolution digital copy of all images
– min. 250 images (digital)
– 2 photographers
– post-production & online gallery
– high-resolution digital copy of all images
– min. 320 images (digital)
– 2 photographers
– post-production & online gallery
– high-resolution digital copy of all images
– min. 450 images (digital)
– 2 photographers
– post-production & online gallery
– high-resolution digital copy of all images
Of course, Colossal Weddings have other packages too! You can check them out on their website.
7. Odelia Bridal
Odelia Bridal is one of Singapore's leading bridal boutiques. They are dedicated to providing personalized, luxurious, and memorable wedding experiences for couples. Due to their comprehensive bridal packages and affordable prices, Odelia is popular choice for its impeccable service.
Services available:
Gowns and Suits
Pre-Wedding Shoots (Local)
Pre-Wedding Shoots (Overseas)
Actual Day Photography
Odelia Bridal Studios has a great range of beautiful dresses to offer, which you can take a look at on their Instagram page. However if you want to know about specific rates and promotions, you can contact Odelia Bridal Studios!
8. Daniel Sim Photography
Daniel Sim is a photographer that is versatile and can always make the best out of any situation. Because of his passion for photorapher, he has managed to gain a vast amount of experience from all the events he has covered. Daniel believs in capturing the fleeting moments that can fly past easily. With all his experience, many clients have left raving reviews as proof. So you can be assured that you that Daniel's photography will never disappoint!
Packages and Rates
Daniel prides himself in providing only the best experience. Thus, he offers both short hours and full-length event coverage. In fact, if you feel that your wedding is happening at odd hours, Daniel has a per-hour flexible hour scheme. You would not need to worry about not having enough time!
If you would like to have a video too, Daniel has a add-on videography package as well. Your videos will be taken by a long-time partner of Daniel's. Hence you would not have to worry about the quality!
If you are interested, you can contact Daniel on his website for a free quote.
9. Forever Pixel Arts
Forever Pixel Arts is a one-stop service for wedding photography, cinematography, make up services and instant print photobooth. With a dedicated team, it is no wonder that Forever Pixel is an award-winning company! For instance, they won Blissful Brides Editor's Choice (2017) for Preferred Pre-Wedding Photographers.
Packages and Rates
Actual Day Photography
Full-Day Photography (8hrs)
1 Photographer
Unlimited shots
500++ of edited images professionally enhanced
300 photos printed with an album
Pre-Wedding Package
All photos returned professionally enhanced
3 to 4 locations (indoor & Outdoor)
6 Hours outdoor shooting
10. La Belle Couture
At La Belle, their mission is to provide a stress free experience to couples through their professional and sincere services. With more than 5000 satisfied wedding couples, you can rest assure that you can enjoy the perfect experience! As a one-stop wedding planning experience, you get services that range from wedding planning to gown rentals. Not to forget, La Belle also has an in-house photographer with highly rated photography packages.
Packages and Rates
Petit Package: Pre-Wedding Photography
4 hours of bridal & casual photography
Up to 2 locations
Gown rental x 1
Suit rental x1
Makeup & Hair x1
Return of all soft copies
Full Works Package: Pre-Wedding Photography
6 hours of bridal & casual photography
Maximum of 4 locations
2 Gowns rental
2 Suits rental
Makeup & hair x1
Full return of soft copies
So, if you have a dream that you want transformed into reality, you can request an appointment with LA Belle!